Séguin named to Team Canada
Athlete of the week
By Ryan Szporer, The Suburban
Stéphanie Séguin's second tour of duty with Team Canada at the World Ringette Championship is bound to have more impact than the first time come the start of the tournament next October in Ottawa.

When the tournament was last held in Stockholm in 2004, Séguin, now 25, made the travelling squad and managed ice time in only two of the tournament's five games.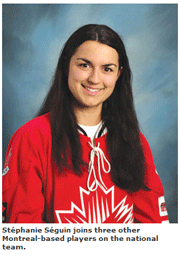 The time before that, in 2002 in Edmonton, she got as far as making the selection camp.

Last week Séguin, along with 21 other players, was named to the actual roster.

"I played [last time in Sweden], not as much as I wanted to but I think I'm going to be on the ice more this time around," says Séguin, this season's winner of the National Ringette League's trophy for best forward.

Other Montreal-based players to make this year's team were Julie Blanchette, Catherine Cartier of Pierrefonds and Julie Primard of St. Constant.

With the exception of Primard, who plays for Rive Sud in the NRL, the three others, including Séguin, play for the Montreal Mission. Even Mission goalie Claudia Jetté made the travelling squad on a team filled with local talent.

Even though Séguin's role on the Mission is not necessarily a starring one (Cartier led the team — and league — in scoring with 88 points in 19 games to Séguin's 34), her getting the nod to play for Team Canada is a credit to her value as a leader and her knowledge of the game.

She has experience coaching, helping to guide Quebec's junior AA ringette team to a gold medal two years ago at the Canadian Ringette Championships. In addition, she has also worked for Ringuette Quebec for the past five years, promoting the sport in elementary schools.

"It helps with all my training and all that. I can go around with my schedule and also I love it so much, so it's not hard," she says.

For Team Canada's Mission players, who earned a berth in the NRL championship game this year only to lose 5-3 last month in Halifax to Edmonton, the World Championships are another kick at the can, so to speak.

Following the championship game loss, the Mission also competed in the CRC's open division, representing Quebec as a wildcard entry (Ontario, Quebec and the Western provinces each had two teams in the tournament), but the Mission finished fourth, just out of medal contention. Now there is a shot at redemption on an even greater stage.

The WRC pits Canada against the U.S.A., Sweden and the reigning champion, Finland. Finland beat Canada quite handily 9-3 in the previous championship game and that victory, in turn, was to avenge a 3-1 loss to the Canadians two years earlier.

"[There's a history there] big time," says Séguin, acknowledging Finland's prowess on the ice when asked if there was the slightest chance she would be rooting for the opposition. Séguin actually played for Turku in Finland's ringette league in 2005 upon being recruited following the last WRC.

"I really liked it. The experience was awesome over there and I made a lot of friends and all that, but, for sure, I mean there is a rivalry," she says laughing, indicating without a trace of doubt where her loyalty lies.